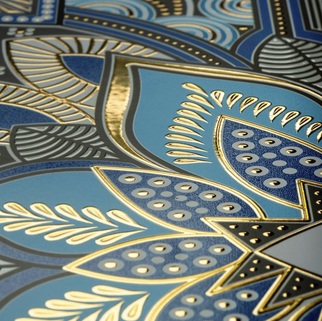 Liquid metal printing - Foil effect
The Liquid metal printing delivers unmatched foil capabilities, including high gloss, embossed, variety of densities for short to medium runs, using a highly advanced, highly-efficient digital process. The Foil effect is ideal for commercial printers, coping with short to medium runs, who today have to outsource the foil application or to use a long and expensive make ready process including molds and dies, as well as for converters doing high-end short to medium runs.
Deploys a wide range of hot and cold industry standard foil films, coupled with a variety of substrates, including offset, digital, plastics, laminated/non-laminated, and coated/uncoated
Delivers superior foil enhancement print with ultra-fine details, high gloss, surface coverage and flawless registration; high-end print quality is achieved via a robust and reliable automatic process with a high production yield.
Application: business cards, catalogs, brochures, invitations, greeting cards, packaging, stickers, labels, POS materials, PVC cards, menus, books, etc.
Back