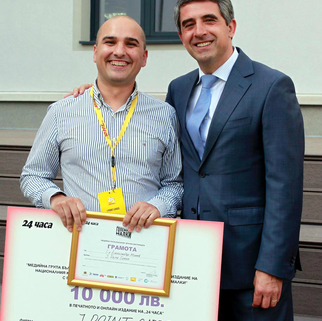 02.06.2016
J Point Cards receives awards for successful business
The PVC cards producer was recognized as the most open-wordlwide and successful small business in Bulgaria.
J Point Cards received two awards from "Golemite Malki" National Competition, held by "24 Chasa" – the biggest daily newspaper in Bulgaria. The competition distinguishes small companies with successful business home and abroad. The event was attended by the Bulgarian President R. Plevneliev and Sofia Mayor Y. Fandakova.
J Point Cards was honored by the jury in two main categories - Successful Small Business in Bulgaria and Successful Small Business in Emerging Foreign Markets, both presented by Deputy Minister of Economy D. Vezieva.
"These awards are great honor for us. They give us incentive to move forward with good work, creative ideas and a lot of persistence", Alexander Manev, General Manager of J Point Cards, said.
The organizers of the event stated that they were impressed with the way a small company like J Point Cards managed to break into the competitive foreign markets, which is dominated mainly by Asian producers. For three years the company has managed to become a well-known PVC card producer, which successfully sells in 19 countries on 3 continents.
The yearly "Golemite Malki" National Competition was held for the second time in a raw. The organizers of the event reviewed the documents of 85 Bulgarian companies and excelled only 10 of them, including the PCV card manufacturer J Point Cards.
Back