FAQ
Before placing an order at J Point Cards, please carefully read our technical specifications and files requirements:
Technical specifications:
File formats for printing: *EPS; *TIF; *CDR; PDF; *PS; scale 1:1; min 300 dpi
All fonts shou be converted in curves (vector)
All colors should be in CMYK scale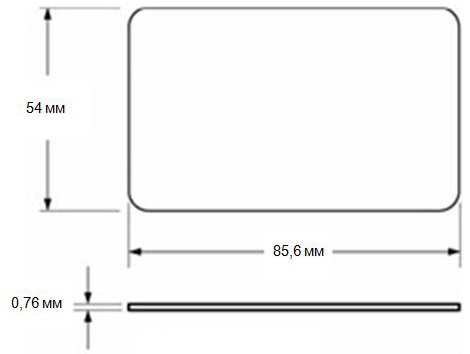 Card size:
Standard cards are produced according to ISO CR-80 with size 85,6 мм х 54 mm (horizontal or vertical), and thickness of 0,76 mm. Other standards are also used worldwide: CR-79 (8,39mm х 5,21mm) and CR-100 (9,86mm х 6,68mm), which is 42% bigger than the most popular CR-80. The most commonly used standard is CR-80, that is why the technical information you will find here is related to this particular standard. In case your cards should be sized according to different standard, lets discuss all specifications and details.
Printing area:
Please add 2mm more of card background in all four sides of the card. After printing all cards are punched into shape and that is why we need 2mm more. Make sure your texts and numbers are positioned at least 3 mm inside from the edge of the card.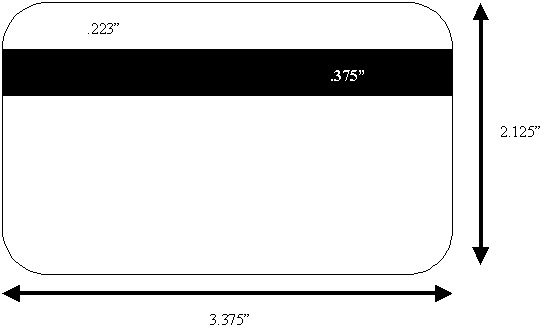 Magnetic stripe (Mag stripe):
The place of the magnetic stripe is specific and cannot be changed. The mag stripes are positioned exactly at 4 mm from the horizontal edge of the card. The mag stripe's width is 12,7 mm. All mag stripes used by J Point Cards are prteliminary fixed to the lamination. The color of the mag stripe is usually dark brown (almost black), but mag stripes could be in different colors, too. If you need a colored mag stripe, please bear in mind that the colored mag stripes are ordered additionally and we need more time for delivery. The mag stripes have different coercivity – intensity of the applied magnetic field. There are two types of mag stripes: HiCo – with high level of coercivity and LoCo with lower level of coercivity.
RFID (contactless) chips:
They are positioned in the core layer of the card and they are invisible. The RFID chips are made of micro chip and an antena which correspond with the reading device when in scope of reading. The most commonly used chips work at 125 kHz и13.56 MHz frequency. One card can contain an RFID chip and a mag stripe in the same time. In this case the information is read by two different type of reading devices. We implement the RFID chips during the process of production and it is very important to be informed in advance what kind of RFID chip is required, because once the chip is inserted into the card, it cannot be replaced.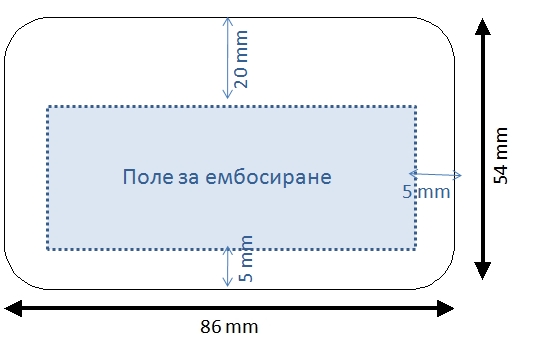 Embossing:
It is a process of personalization with creating a raised relief of letters and numbers. There are some limitations regarding this operation which should be remembered:
The font is only one and cannot be changed. It is quite similar to the standard OCR font. The letters are capital only, with 3mm hight; the numbers could be 3mm or 5mm high. The minimum line space is 2mm.
The embossing field is defined by 9 mm from the left, right and bottom edge of the card and 20 mm from the top edge. The embossing personalization can be in different colors, but the most preferred one is silver.
Please keep in mind that the back side of the card where the embossed letters and numbers are positioned will be deformed and thet is why it is not a good idea to put an important information on that area.
If you have any questions or you need more information, please contact us via email cards@j-point.net or phone +359 2 437 3799.
Contacts