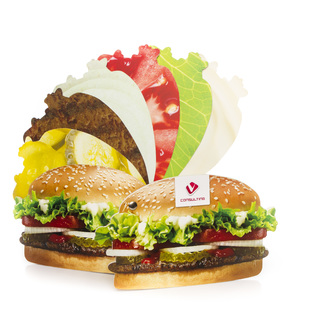 Cutting and punching
Cutting and punching are carried out after the printing process and provide complete and unconventional form and size of all kind of print applications - business cards, wobblers, shelf talkers, invitations, boxes, folders and others.
J Point Plus has two guillotine cutters allowing programmable cutting of print products in all possible formats at highest speed and precision - the cutting system Zund S3 M-800, which modular tooling, allows a processing of wide variety of materials up to a maximum thickness of 25mm/1. Various levels of automated material handling turn the S3 into the perfect all-round production system. The S3 is fast, compact, and complies with the highest safety standards – a true Swiss quality product, uncompromising in precision and design.
The punching on the other hand is a process in which paper, cardboard, plastic or other material is cut into irregular and complicated forms by simply using matrix embedded with sharp steel knives and creases, and apress, providing pressure.
Back